Peer Review Process and Policy
All research articles and most other types of articles published in Asian Journal of Emerging Research undergo peer review. This usually involves review by at least two independent, expert peer reviews.

What is Peer Review & Why is it important?
Peer review is the independent assessment of research papers by experts in a similar field. Independent researchers in the relevant research area assess submitted manuscripts for originality, validity, and significance to help editors determine whether a manuscript should be published in their journal.

Peer-review policy
All submissions to Asian Journal of Emerging Research are initially review for completeness and only then sent to be assessed by an Editor who will decide whether they are suitable for peer review. Editors will consider the peer-reviewed reports when making a decision but are not bound by the recommendations therein. A concern raised by a single peer reviewer or the Editor may result in the manuscript being rejected. Authors receive peer review reports with the editorial decision on the manuscript.

Asian Journal of Emerging Research follows & recommends the ICMJE Recommendations for the Conduct, Reporting, Editing, and Publication of Scholarly Work in Medical Journals and the Principles of Transparency and Best Practice in Scholarly Publishing (joint statement by COPE , DOAJ , WAME , and OASPA ).

Peer-Review & Editorial Decision Process
Asian Journal of Emerging Research aims to provide authors with professional, fair, timely, and confidential peer reviews by field experts. The review consists of the following steps:

Initial Screening
After a paper is submitted to a journal, the Executive Managing Editor (EME) will screen the manuscript and decides whether or not to send it for full peer review. This step is to ensure adherence to our policies, including statements of competing interests, ethical requirements for studies involving human participants or animals, as well as the unacceptably low standard language. For example, the editor will ask:
Does the manuscript fit the journal's scope, and interests the readership?
Is the manuscript of acceptable quality?
Is the writing worthy of reviewing?
Is the manuscript compliant with the journal's instructions for authors?
The author(s) may be asked for a revision. Only after clearing the initial screening is the manuscript sent to peer reviewers. Manuscripts may be declined by the EME without a full review nor been asked for a revision if they are inconsistent with our Editorial Guidelines.

Peer Review
All manuscripts submitted to the Asian Journal of Emerging Research selected for peer review are sent to two-four independent reviewers selected by the editors. Authors are welcome to suggest suitable independent reviewers and request that the journal excludes individuals or laboratories.

The EME assigns manuscripts to one of the Editorial Board Members and 2 - 4 reviewers. External referees are consulted when additional expertise is required. All reviewers are experts in their respective fields. Those who review a manuscript remain unknown to the authors. the manuscript is treated as privileged information, and reviewers exclude themselves from a review of any manuscript that might involve a conflict of interest. The reviewers can recommend accepting, revising, or declining a paper.

Peer-reviewers are submitted via our secure online system by following the special link provided in the editor's email. The editors can then assess the reports and decide to accept, reject or revise the manuscript. The editor who handles papers decides to accept or reject articles based on reviewers' comments and their own opinion of the papers' publication worthiness. The peer-review process is time-consuming. The editor may offer guidance to the author on 'how to process in pursuing a revision'.

Peer reviewers are ideally experts in their field. We have built a panel of peer reviewers that have a good track record of producing high-quality reviews. The editors will base their selection of peer-reviewers on factors, like expertise, publication records, reputation, prior reviewing experience, personal knowledge, specific recommendations, and conflict of interest. The editors will avoid using slow, careless people or do not provide reasons for their views.

Peer-reviewers should adhere to the principles of COPE's Ethical Guidelines for Peer-reviewers

The editors will check with potential reviewers before sending them manuscripts to review. Reviewers should bear in mind that these messages contain confidential information, which should be treated as such. Editors will make the final selection of peer reviewers who have sufficient expertise to fairly judge the manuscript.

The most common types of questions that reviewers are asked about, to provide an assessment of the various aspects of a manuscript includes:
key results,
outstanding features,
validity of the manuscript,
originality and significance,
relevance of references,
validity of the approach,
quality of data,
quality of presentation,
proper reporting of data and methodology,
appropriateness and accuracy of statistical test,
presence of inflammatory material (inappropriate or potentially libelous language)
clarity and context of abstract, etc.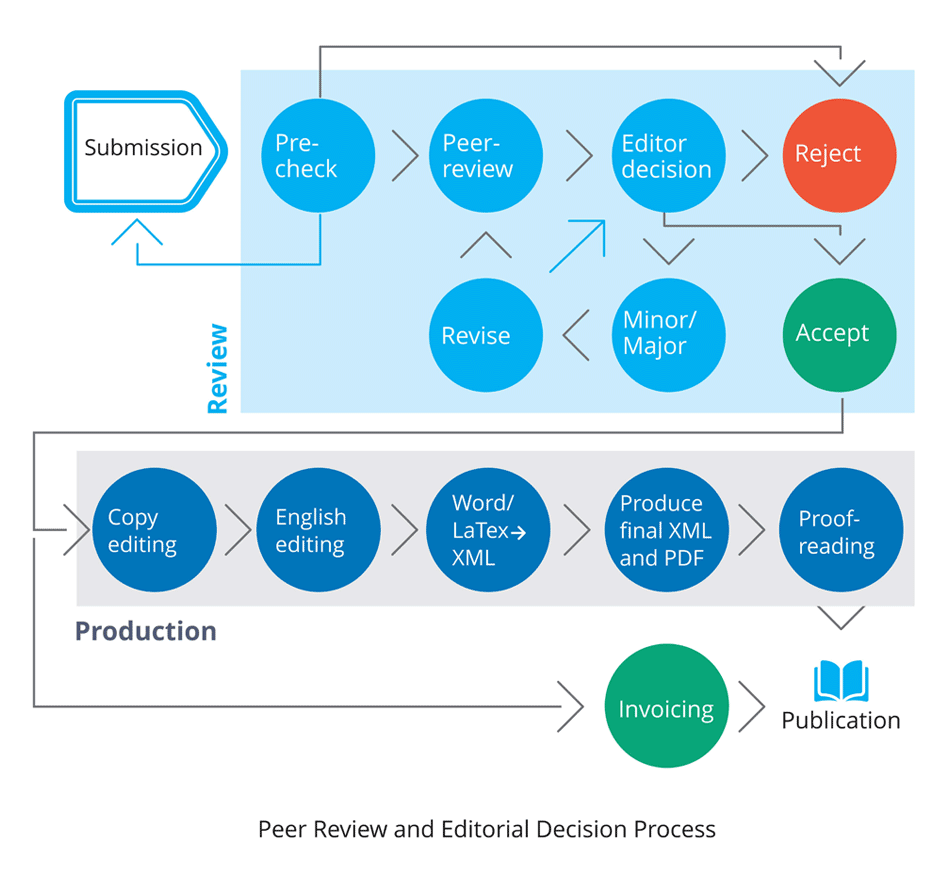 Decision
Editors have the option of accepting, recommending modification, recommending additional external reviews, or rejecting.
If the decision is Minor Revision or Major Revision, the authors have 30 days to resubmit a revised manuscript.
Upon resubmission, the academic editor may choose to assign the manuscript to the reviewers or render a decision based on his/her expertise.
Asian Journal of Emerging Research aims to provide authors with an initial decision within three weeks.
After acceptance, manuscripts are published online within one week after proofreading.
Proofreading
You can annotate and add comments in a Word document.
If, for any reason, this is not possible, mark the corrections and any other comments on a printout of your proof and return by scan the pages and email to editor@scienceinternational.com.
Please use this proof only for checking the typesetting, editing, completeness, and correctness of the text, tables, and figures. Significant changes to the article as accepted for publication will be considered at this stage only with permission from the editor.
We will do everything possible to get your article published quickly and accurately please reply with your corrections within 48 hours. Proofreading is solely your responsibility.
Note:
Asian Journal of Emerging Research may proceed with the publication of your article, with no further editing, if no response is received
Complaint policy
If you wish to appeal a decision, you should email the editor who handled the whole submission inquiry and review process, explaining in detail your reasons for any complaints or the appeal. The email should be sent to
editor@scienceinternational.com
. Appeals will only be considered when a reviewer or editor is thought to have a significant error or bias or when a documented competing interest compromises the objectivity. Either of these reasons would change the original decision. All appeals will be discussed with another editor, with a total number of three editors involved. The majority rule will be applied. The processing of appeals will usually take no longer than two weeks. While under appeal, a manuscript remains under formal consideration and hence should not be submitted for consideration elsewhere. We do not consider second appeals.